Considering taking out a loan? Money Under 30's simple loan payoff calculator can tell you two things:
How long it will take to pay off a given amount with a given monthly payment.
How much you'll need to pay per month to pay off a given amount in a fixed amount of time.
This tool can help you make a financing decision when you are in the shopping phase, or when you simply want to crunch numbers to see how well a loan will fit into your budget. It's usually better to do this kind of calculating on your own, rather than when you're sitting at a bank or an auto dealership getting numbers from a finance manager.
This calculator will help you know what the numbers might look like before you reach that stage. You can experiment with different loan terms — after all, while a low payment may be attractive, paying a loan off a year or two early can prove to be an even better option. 
Loan Payoff Calculator
How the Loan Payoff Calculator Works
To use the loan calculator, you'll start by entering two critical pieces of information: the loan amount and the APR (interest rate) you'll be paying. 
From there, you'll have the option to "Calculate by Loan Term" or "Calculate by Monthly Payment." Click the bubble next to the one you want to calculate first. 
Let's take a look at each, starting with the assumption of a $10,000 loan amount and a 7% loan APR.
Calculate by loan term
This option will help you to determine how long it will take to pay off your loan, based on the loan amount, the interest rate, and the proposed term of the loan. If you're simply playing around with different numbers, you can adjust the length of the loan term to determine a payment level that's acceptable to you. 
But this option will also give you another important piece of information: the amount of interest you'll pay over the length of the loan.
The longer the term, the higher the total interest paid will be. In that way, you'll be able to make an intelligent decision about both the monthly payment and the total interest cost of the loan.
When you select this option, you'll be asked two additional questions: 
Loan term.

 This can range from 12 to 84 months.

Extra monthly payment (optional).

 Here you can enter any additional principal you plan to add to your monthly payment, but you can also leave it blank if you only intend to make occasional additional payments.
For demonstration purposes, enter 60 months for the loan term. Then hit the "Calculate" button.
The loan payoff calculator will display two results: 
Your estimated monthly payment will be __. In this case, 

$198.01.

Interest paid. In this case, 

$1,880.60, which is the total amount of interest you'll pay over the 60-month term of the loan.
Calculate by monthly payment
For many consumers, the monthly payment on a new loan is the single most important factor. You can use the "Calculate by Monthly Payment" option to find what you feel will be the right payment for you.
Just as I did with the "Calculate by Loan Term," I'll start by entering a loan amount of $10,000 and a loan APR of 7%. 
Next, click the "Calculate by Monthly Payment" option. Then hit the "Calculate" button.
You'll be asked to enter the expected monthly payment. For the sake of example, let's enter $155, then hit the "Calculate" button.
The loan payoff calculator will display three results: 
Months to payoff. 

81 months, in this case.

Years to payoff.

 6.75 years.

Interest paid.

 $2,555.
Now, most lenders won't make a loan for 81 months, since it doesn't represent a specific number of years. You'll likely be asked to choose either 72 months, which will raise the payment somewhat, or 84 months, which will lower the payment slightly.
But notice that the lower monthly payment — $155 vs. $198.01 I used in "Calculate by Loan Term" — also results in a much higher amount of interest paid over the life of the loan.
With the term at 60 months, you'll pay $1,880.60 over the life of the loan. But at 81 months — and the lower monthly payment — you'll pay $2,555, which will raise the cost of the loan by $675. 
Where to Get a Loan
Personal loans have been increasing in popularity in recent years, and it's easy to see why. You can borrow large loan amounts — sometimes as high as $100,000 — on a completely unsecured loan with terms as long as 84 months.
Three of the best sources of personal loans are Fiona, Monevo, and Credible.
Fiona
Fiona is an aggregator that works to help you get quotes on both personal loans and on student loan refinances.
But they've also recently expanded into helping you find the best credit cards or even the best savings accounts. You can search for the most attractive offers on the platform, then Fiona will guide you through the application process with the direct lender.
Fiona can help you to get a better rate by providing you with side-by-side loan quotes, where you'll be able to do a direct comparison of the interest rates, fees, and terms offered by various lenders. This will eliminate the need for you to shop around, searching for the best deal.
Fiona is also completely free to use, and loan APRs and fees will be paid directly to the lender you choose to work with.
Try Fiona or read our full Fiona review.
Monevo
Monevo optimizes your chances of getting a good rate by sourcing quotes from more than 30 different lenders. Best of all, the search is quick, with quotes provided in about a minute. Even before you input your information, you can take a peek at the typical rates being offered, with a list of participating lenders, rate ranges, and loan amount ranges offered directly on Monevo's homepage.
If you see a rate you like, simply click "Continue" to progress to the loan application. You can request loans of up to $100,000, and for a wide range of purposes, including debt consolidation and student loan refinancing.
Monevo charges no fees, so any fees you end up paying will be charged by the lender you choose.
Try Monevo or read our full Monevo review.
Credible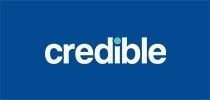 Credible is best known for student loan refinances, but they also offer personal loans. Much like Fiona, Credible is an online lending marketplace, enabling you to get quotes from multiple lenders. And those lenders include some of the biggest names in the personal loan and student loan refinance spaces.
The service is also completely free to use, and you can get side-by-side comparison quotes from multiple participating lenders by completing a simple online application. Once again, this method of obtaining multiple loan quotes is the single best strategy there is to help you get a better loan rate. You can review the offers by the lenders, then choose the one you want to work with.
Credible is so sure they'll get you the lowest interest rate possible, that they'll pay you $200 if you find a better rate elsewhere. Terms and conditions apply. 
Try Credible or read our full Credible review.
Don't Forget the Origination Fees
There's one other factor you should be aware of, especially when it comes to personal loans. Some personal loan lenders charge origination fees equal to between 1% and 6% of the amount you borrow. That means you may pay between $100 and $600 on a $10,000 loan.
But an origination fee shouldn't discourage you from considering a personal loan. For example, let's say you have $10,000 in credit cards with an average interest rate of 23%. That means you're paying $2,300 per year in interest.
If you have an opportunity to get a personal loan at, say, 12% over 60 months with a 6% origination fee, then even though you'll pay $600 for the origination fee, you'll still save hundreds of dollars compared to your current credit card debt.
The personal loan, with an interest rate of 12%, will cost you something less than $1,200 in interest in the first year (less because it's an installment loan with a gradually declining balance). Even if you add the $600 origination fee to the $1,200 in interest on the personal loan, the total costs in the first year are $1,800. That means you'll still save $500 compared to the $2,300 in interest you'd be paying on the credit cards.
And since the origination fee applies only when you accept the loan, the savings each year thereafter will be even higher. And equally important, the debt will be completely paid off in five years. That's unlikely to happen with credit card debt.
Translation: don't let an origination fee scare you away from taking out a personal loan. Crunch the numbers, compare them with what you're paying on your current debt, and go forward if it will save you money.
Summary
Using a loan payoff calculator can help you figure out the numbers that matter before you even apply for a loan. This, in turn, will allow you to choose the best repayment term for your desired goal.
More loan help:




(Source)